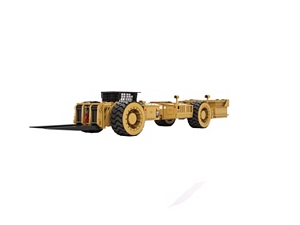 SH650 VFD Roof Support Carrier Specifications
Carry Capacity
50.0 tons
Vehicle Length
38.58 ft
Vehicle Width
9.94 ft
Power - AC
247.0 hp
Specifications
Carry Capacity

50.0 tons

Vehicle Length

38.58 ft

Vehicle Width

9.94 ft
Engine
Power - AC

247.0 hp
Carrying Capacity
Capacity

50.0 tons
Dimensions
Length (with lifting fork)

38.58 ft

Width

9.94 ft
Empty Weights
240 kW Hour Battery Pack

101500.0 lb

Less Battery

70000.0 lb
Tram Speed
Level and Empty on 0% Grade

4.1 mph

Level and Loaded on 0% Grade

3.6 mph
Lift and Carry Capacity
Without Ballast

45 tonnes at 1575 mm (50 tons at 62 in)
Drive Train
Drive Lines

8.5 C Series Shafts with 76 mm (3 in) Slip Joints

Motor Overspeed Protection

Motor overspeed protections are inherent to the AC drive package.

Tram Motor

One motor is front-frame-mounted and drives the front axle and the rear-axle tram motor is middle-frame-mounted.

Tram Motor

VFD driven

Tram Motor

One-hour rating (111 kW/150 hp total)

Tram Motor

Gear motors rated at 74 kW (100 hp)

Tram Motor

Mine traction

Tram Motor

Two proprietary design
Brakes
Service and Emergency/Park

4-wheel wet disc

Service and Emergency/Park

Spring-applied hydraulic release SAHR

Service and Emergency/Park

Controlled by reverse modulating valve

Service and Emergency/Park

Left-pedal activated
Hydraulics
Battery Changer Cylinder

Two (2) 152 mm (6 in) bore, double-acting cylinders with load-locking valves

Bell-Crank Lift Cylinder

Two (2) 203 mm (8 in) bore, double-acting cylinders with load-locking valves

Filtration (Standard)

One tank-mounted 25-micron return filter

Filtration (Standard)

Ten micron fluid port filters on key control circuits

Filtration (Standard)

One 10-micron filter on the pilot valve circuit

Filtration (Standard)

One 25-micron filter on the main hydraulic circuit

Filtration (Standard)

One 10-micron filter on the accumulator circuit

Filtration (Standard)

Three pressure filters

Hydraulic PTO

Two (2) quick coupler connections, 17.58 MPa (2,550 psi) maximum recommended operating pressure

Pump

The pump is a splined shaft fit to the pump motor

Pump Motor

Laminated frame

Pump Motor

VFD driven motor rated at 35 kW (47 hp) for one hour

Pump Motor

Mine duty

Pump Motor

Non-ventilated cooling

Pump Motor

MSHA totally enclosed, explosion-proof

Pump Motor

140V AC

Reservoir

A 220 L (50 gal) capacity, bolt in reservoir equipped with a spin-on filter/breather

Steering Cylinder

Two (2) 152 mm (6 in) bore, double-acting cylinders with dual-relief setting at 15.9 MPa (2,300 psi)

Tilt Lift Cylinder

Two (2) 241 mm (9.5 in) bore, double-acting cylinders with load-locking valves

Valve Bank

Seven-section, pilot-operated, parallel type with internal relief and a dash-mounted, glycerin-filled pressure gauge
Dual Lift System
Oscillation Section

An 813 mm (32 in) diameter bearing with 13⁄4-in diameter rolling elements provides 20 degrees of oscillation.

Winch

A fully hydraulic-operated, 31 751 kg (70,000 lb) winch with two-speed pay in/out. Heavy-duty fabricated steel drum.

Winch Cable Assembly (Options)

Coated 7⁄8-in diameter, Samson, Dynema, Samthane rope, connecting link and swivel hook. Attached to drum via U-bolt.
Operator's Compartment
Components

Side egress access

Components

Emergency/park brake release hand pump

Components

Panic strip switch that de-energizes the electrical system and applies the automatic park brake.

Components

Dash-mounted, glycerin-filled hydraulic gauges for accumulator, system pressure and emergency brake.

Components

Warning gong

Components

Right hand tilt-lift control lever

Components

Hydraulic PTO control lever

Components

Battery changer control lever

Components

Hydraulic circuit breaker reset control

Components

Right-foot accelerator pedal

Components

Left-foot brake pedal

Left-hand steering with control stick with these functions

• Pump motor start/stop • Park brake release/set • Directional headlights • Tram direction • Stop
Manuals
Types

Two Parts Manuals

Types

Two Operation and Preventive Maintenance Manuals

Types

One CD, which includes all above manuals in electronic format

Types

Two Battery Maintenance Manuals

Types

Two Battery Maintenance Charts

Types

Two Electrical Troubleshooting Guides
Hydraulic Installation (Standard)
Components

JIC fittings with 34.47 MPa (5,000 psi) hosing; MSHA 2G flame-resistant approved
Electrical Controller
Components

Modular design

Components

Microprocessor-controlled IGBT

Components

Contactorless

Components

Variable Frequency Drive (VFD)

Components

140V AC

Components

Traction motor controllers with infinitely variable, stepless machine speed control.

Components

1,600 amp total
Circuit Breaker Options
Options

Magnetic, UVR Trip - controller enclosure equipped with UVR trip circuit breaker rated mine duty 800 amp frame, 600 volt.
Tire/Wheel Options
Options

54×26 SETCO solid tires with heavy side wall plate protection

Options

48×25 SETCO solid tires
Battery Charger (Dual Connector)
Output

Dual-output for two batteries

Output

Single-output for one battery
Cable guide assembly
Reflector installation - additional reflectors mounted in strategic locations on the machine
Pressure switch kit, intrinsically safe - electric/hydraulic system to shut down the tram motors in the event of low hydraulic system pressure.
Shroeder TestMate with JIC fittings
Power disconnect switch (required in PA)
Tow hook installation - two tow hooks mounted on the front of machine rated at 10.89 tonne (12 tons) each.
Tram and pump motors with RTD monitoring. Temperature data recording provided to aid in motor protections and preventative maintenance. Available with 16-hp pump option.
Automatic fire suppression system.
Battery tray - one required for each battery assembly - heavy-duty welded steel battery trays for use with 2,000 amp-hour battery assemblies.
Park brake/tram inhibit installation kit providing brake system pressure monitoring to limit the potential to tram through parking brakes.
Hydraulic easy-test kit providing for the ability to monitor the hydraulic system.
In-line flow meter monitoring of the tandem hydraulic pump outputs. Provides the addition of two analogue gauges in the hydraulic bay.
Tilt cylinder protection kit consisting of two hinged, heavy-duty steel plates protecting the tilt cylinder rods.
Shield deflector/cage protector consisting of a frame-mounted supported structure, 25.4 mm (1 in) higher than the canopy at maximum height. Allowing protection for the canopy and cage assembly forming the operator's cab.
Ultra heavy-duty fork-mounted ejector bucket with quick-attach pins.
PIT disconnect kit required for PA approval.